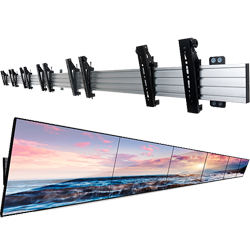 Menu Board Solution
The Btech Menu Board Mounting solution is a modular mounting system designed for menu board installations of any length. This Solution can be used in thousands of different configurations and must be ordered according to your requirements.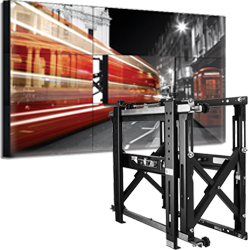 Videowall Mounts
Modular video wall mounting systems for video walls of any size.
Designed to make video wall installations as quick and simple as possible, this modular video wall mount can be used to create unlimited video wall configurations in both landscape and portrait format. The video wall mounting solution features a pop-in, pop-out system which enables quick and easy access to the rear of mounted screens for
servicing and maintenance and 8 point micro-adjustment, making accurate screen alignment quick and easy.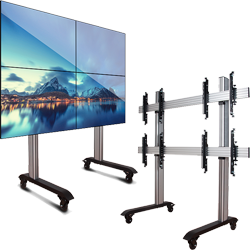 System X
B-Tech's dynamic System X range, is a contemporary mobile video wall mounting solution which is available to order in a variety of different configurations. The system's universal design supports all models of video wall screen and is lightweight yet incredibly strong with a high-end aesthetic quality. Important time saving features such as tool-less 8 point micro-adjustment and a universal screen position spacer to speed up the installation process are included as standard.