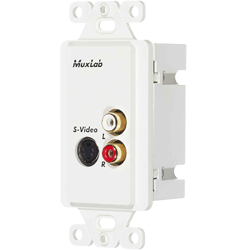 Wall Plates
The Audio Video signal to be transmitted via unshielded twisted pair (UTP) cable up to 1000 ft (305m) in a point-to-point connection.
The Wall Plates features full audio bandwidth response for high fidelity applications and is Decora™ compatible for ease of installation. The wall plates works in pairs.
Application include; classroom video distribution, commercial and home audio/video systems, hospital video training, video conferencing, and video kiosks.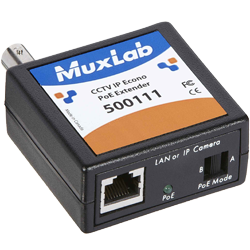 IP POE Extenders
The CCTV IP PoE Extender allows one IP camera to be connected via a single 75-ohm coax cable in a point-to-point configuration. The product works in pairs and the power consumption is low enough so that it does not load the PoE source or switch. The maximum distance depends on the grade of coax cable and the power consumption of the camera.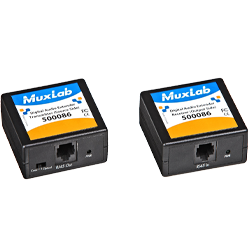 Digital Audio Extenders
The MuxLab Digital Audio Extender Kit is a versatile digital audio standards extender and converter.
The audio transmission signal can be distributed to up to a distance of 500 ft / 150m in a point-to-point configuration over single Cat5e/6.
The extender supports most standards to transmit two channels of uncompressed lossless PCM audio or compressed 5.1/7.1 surround sound, such as Dolby® Digital Plus or DTS-HD High Resolution Audio (multichannel digital audio Dolby Digital® 5.1, DTS, and Dolby® True HD).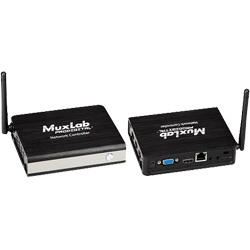 ProDigital Network Controller
The MuxLab ProDigital Network Controller is a Linux-based PC that allows users to control hub-installed MuxLab products via an Ethernet Web interface.
When installed on a local area network (LAN), the MuxLab Network Controller will scan the LAN for connected MuxLab products allowing the user to configure and control these products through an Ethernet Web interface.